by Carol Schutzbank
"We are not F.O.D.
We are not Little Gentlemen
We are not Seed of Terror
We are not McRad " **

You can say that again. Although the name seems to be the usual
attempt of a local band aspring to make their mark in punk rock history,
that is as far as the comparison goes. The music is another story.

"We are not Blunder Boys
We are not Circle of Shit
We are not F.O.D.
We are not an art fag band" **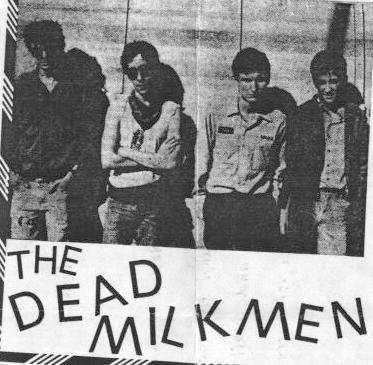 The Dead Milkmen are a group of four likeable guys ( Rodney Anonymous
--vocals, Jack Talcum --guitar, backup, Dave Blood-- bass, Dean Clean--
drums ) who play truly likeable music. There are none of the culture/ counter culture
political soapbox diatribes that some bands aspire to, sending them over the edge
into an abyss of repetitious boredom ( Plato's Law of Despair : the quality of music
is inversely affected by the quantity of medocre philosophy crammed into one song).
Instead this music is fun with a capital "F". There is a sense of humor in what the band
does. The music is spirited and forceful. The titles of their two releases:
Death Rides A Pale Cow and The Dead Milkmen Take The Airwaves
are a subtle warning to let the listener beware--
this is not music for a serious midnight discussion.
THis is music for a good time.
How can you resist a band that sings " I Hate Myself " with vigor and vim equalled only
by the enthusiasm of a group of winos discovering a half price sale on Night Train.?
Then there's the all-time favorite " Bitchin' Camero " and for something completely
different..." Rastabilly "
For those who are concerned about lack of substance, rest easy. Topics such as
culture ( "Ich Bin Ein Junkie, Was?" ), politics (" Beach Party Viet Nam"), and education
(" Violent School " ) provide the daily minimum requirment of societal criticism
essential for a band to grow and an audience to relate to.
The Dead Milkmen inspire high spirits with their music and their off-beat approach
to their material. It is refreshing not to feel guilty because you're having a great time
at a show while a band sings about starvation and desolation.
"We are not a local band
We are from outer space
We don't even give a damn
We will probably smash your face
WE ARE THE DEAD MILKMEN
WE ARE THE DEAD MILKMEN
WE ARE THE DEAD MILKMEN**

They certainly are.... and don't you forget it !

Tapes are avaliable by writing to
The Dead Milkmen /POB 58152 / Phila.,
PA 19102-8152
**Lyrics from the "Milkmen Stomp"
c Golfpro Music
---


Joe sent me this article in Jan. 1996. I am not sure if the above note is from that time or from 1983.
Which ever it was, the Article is a really good one, and its sad to see someone that cool go.
---


Dead Milkmen - Home | DM.TMZ.TM.BJ.BWB-Home
---
Site Design by :
johnweiz@go.com